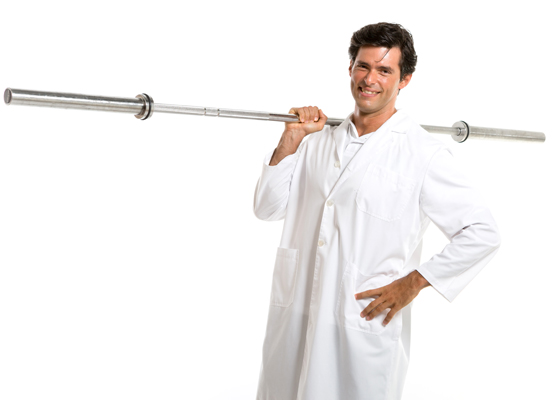 Nuno Correia
Co-Founder and Head Coach
Nuno was born in Funchal, Madeira Island, where he lived until the age of 17. Sports were an essential element of his upbringing and development. Although interested in sports in general, Nuno was a competitive swimmer during his childhood and adolescence. A short incursion in water polo came later as well as a deeper interest for tennis. Nuno's first experience as a "coach" was as a swimming instructor at the age of 15.
When living in Lisbon, Nuno's professional path followed a rather distinct route from training. He was a professional Jazz musician for more than 10 years. In that context, Nuno studied in several highly ranked music schools such as the Lisbon Conservatory, the Lisbon Higher School of Music, the Hot Club of Portugal's Jazz School (where he would become a teacher) and the Amsterdam Conservatory where he completed his Bachelor in Music in Jazz Double Bass in 2006. This experience earned him a deep understanding of processes related to learning and motor control development which are very similar to the development of gross motor skills.
However, the fact that he had to quell a crippling neurological disease (focal dystonia) resulting of an intensive musical practice, made him rethink his professional life and turn again to the area of exercise and health. Consequently, Nuno embraced a professional career in fitness in a full-time manner.
As a coach, Nuno's mission is to educate anyone who wishes to improve their quality of life and performance on sports and/or activities of daily living. His goal is to empower people with the capacity to maximize their genetic potential, based on a functional and holistic approach where physical training and nutrition stand as fundamental pillars.
Nuno holds a Bachelor's degree (BS) in Sports Sciences by the Faculty of Human Kinetics – University of Lisbon, and a Master's degree (MSc) in Personalised Nutrition (awarded by Middlesex University London). Additionally, he is certified by several international organizations in the fields of physical training, athletic performance and nutrition, such as: EXOS; Dragon Door; International Tennis Performance Association (iTPA); European Health & Fitness Association (EHFA); Functional Movement Systems (FMS); Steve Maxwell Strength & Conditioning; Precision Nutrition; NutriScience. Nuno is also certified as a Neuro Linguistic Programming (NLP) practitioner by the Association for NLP (ANLP). In addition, he co-authored the book chapter Motor Behavior and Creativity in Music Learning (in Motor Behavior, Control and Learning, FMH Editions).
As a fitness professional Nuno worked as a personal trainer and swimming instructor at health clubs, and as a fitness trainer and tennis teacher at various clubs. After several years living in Oslo, Norway, where he developed his activity as Strength & Conditioning Coach, Personal Trainer and Nutrition Coach, he has always maintained his connection to Portugal, collaborating in the development of projects in the area of health, physical training and nutrition (ex : Fat Burn Boot Camp). Presently, beyond being founder and manager of The Strength Clinic, he is also an educator in the area of exercise and training with WellX-Proschool and in the post-graduation course in Strength & Conditioning at the Faculty of Human Kinetics, University of Lisbon.
Nowadays his focus is on strength training and practicing the sport of Olympic Weightlifting. He also enjoys powerlifting, kettlebell training and bodyweight training, as well as participating in a wide range of sporting and physical challenges. He is continuously studying, researching and keeping up to date in the areas of physical training, nutrition and health.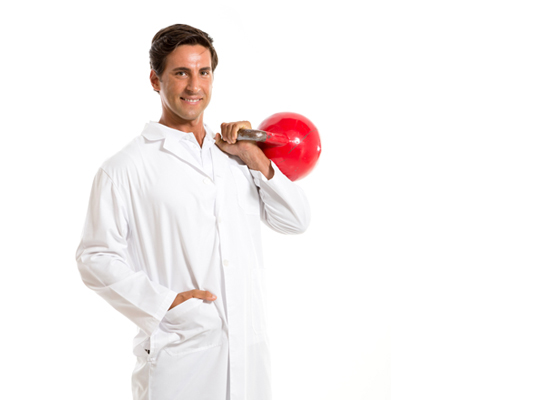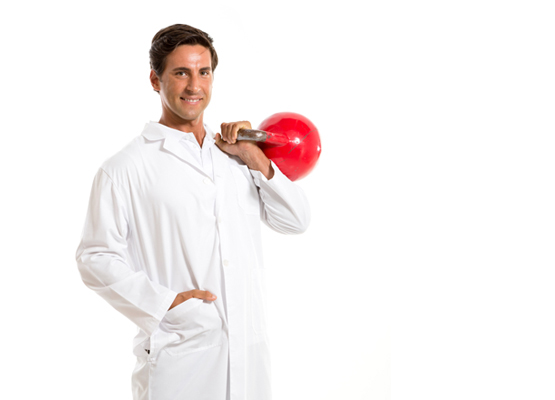 Pedro Correia
Co-Founder and Head Coach
Born in Funchal, Madeira Island, Pedro's mission is to help anyone who desires to improve their performance in sports as well as in all activities of daily living (ADL), always framed by a holistic approach that includes Movement, Nutrition, Mindset and Regeneration.
Pedro has a great passion for sports in general, but most of his career as an athlete was in swimming, where he competed at a national and international level, followed by a brief incursion in water polo. Pedro enjoys lifting weights (heavy ones) and has a great interest in the fields of study related to performance (sports and ADL) and health, such as movement quality, training methodology, strength training, nutrition and functional anatomy.
Professionally, Pedro has worked as a sports manager at Clube de Golf do Santo da Serra (Madeira), where he developed projects related to golf education and local competitions. Later, he worked at the Spanish Golf Federation in Madrid as a coordinator of the national golf school Joaquín Blume, helping the technical team in various components of golf performance as well as players in their academic and sports career.  Unfulfilled with his role due to a rather limited room to intervene, Pedro left the Spanish Golf Federation and decided to deepen his knowledge in the field of training / performance. This led him to work in Barcelona in a high performance sports center as a fitness and golf performance specialist. During this period, Pedro coached more than 50 people (both adolescents and adults) and collaborated with various local schools and golf clubs.
Pedro's concern with health became more amplified due to his struggle against cancer (Hodgkin's lymphoma), which he considers to have been the hardest battle of his life until today. Pedro's restlessness and everlasting doubts about the cause of this disease led him to question the status quo, to deepen his knowledge in the field of nutrition (a field that has always been of his interest) and to study which could be the environmental triggers contributing for the development of cancer and other diseases. Because immediate answers to his queries were not readily available, Pedro went in search for this knowledge. And he is still looking!
Pedro completed his Bachelor Degree in Sports and Physical Education at University of Madeira and his Master in Golf Course Management at Universidad Europea de Madrid. Pedro's complementary education in the fields of movement and performance undertaken in some of the best sports centers in the USA (EXOS, Titleist Performance Institute, Parisi Speed School, Mike Boyle Strength & Conditioning, Results Fitness), as well as in the field of nutrition (Precision Nutrition, NutriScience, Tudor Bompa Institute), led him to embrace a more comprehensive work philosophy which distinguishes itself by incorporating an integrated functional approach to disease prevention, health improvement and performance optimisation. Based on this philosophy, and already living in Lisbon, Pedro has created the program Fat Burn Boot Camp, through which he has helped over one hundred people improving their functional capacity, losing weight and improving their body composition.
In the last few years, Pedro has been working in Lisbon as a Performance Specialist and Nutrition Coach. As a personal trainer, Pedro has been accompanying general population clients as well as some professional athletes. He is also an educator and lecturer in the field of exercise, and author of articles in several fitness, golf and health related publications (Men's Health, Women's Health, Prevenir, Golfe Press, Sábado, Única, Portal Sapo, Madeira Best). Pedro is the author of the blog Functional Performance Training, where he addresses various relevant topics in the fields of training, health and nutrition. In addition, he collaborated in the study "Feasibility of Home vs. Hospital Based Resistance Training for Advanced Cancer Patients" which was presented at the MASCC / ISOO Annual Meeting on Supportive Care in Cancer in 2017 (USA).
Regarding strength training, Pedro enjoys powerlifting, Olympic weightlifting, bodyweight training and kettlebell training, having participated in several powerlifting and Olympic weightlifting meets. As a recreational athlete, he has practiced combat sports and nowadays enjoys playing tennis, golf, surfing and paddle board.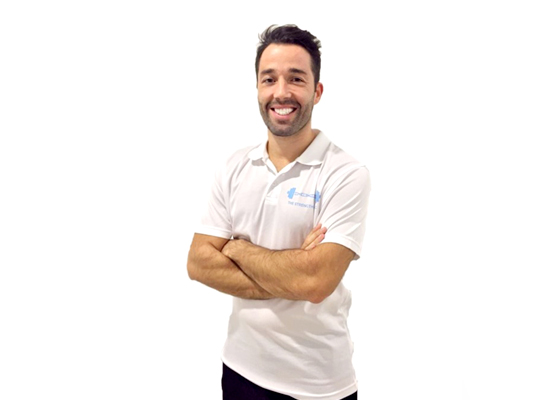 Tiago Marto
Physical Therapist
Tiago was born in Fátima, where he lived until he was 18 years old, and has been involved in sports from early age. Around the age of 10, Tiago had his first contact with the sport that he would choose for his life, Athletics. He soon showed to be an eclectic athlete (when competing in various disciplines), which impelled him to specialize in combined events such as the Decathlon and the Heptathlon. He became senior national champion 8 times in the Decathlon and 7 times in the Heptathlon. He has represented the Portuguese National Team uninterruptedly since the age of 16, having participated in European Championships (finishing in the top 10) as well as in World Championships.
Tiago had his first contact with Physical Therapy while a high performance athlete and developed an interest for various areas of rehabilitation, particularly for the fields related to the musculoskeletal system and sports. He graduated in Physical Therapy from Superior School of Health Technology of Lisbon (ESTESL), leaving with a particular interest for the areas of manual therapy, movement / exercise, and a will to integrate that acquired knowledge in rehabilitation with his experience as a high performance athlete.
Tiago's professional career has been mainly conducted in the private sector. He has come across with numerous and varied pathologies, and seeks, whenever possible, to create the bridge between rehabilitation and physical exercise / performance. Simultaneously, he has developed some activity as an educator in the fields of "post-rehabilitation training" and "injury prevention in running".
Nowadays, Tiago tries to keep himself as up to date as possible by continuously studying and learning, so that he can intervene as effective as possible with his patients and athletes. In terms of sports practice, even though he no longer competes at the highest level, he maintains a regular physical exercise practice. It is in the gym that most of his training takes place, focusing on obtaining the physical and mental benefits that the exercise provides.
Also, Tiago has an interest in music, having learned to play guitar, and loves to visit new countries and learn about new cultures.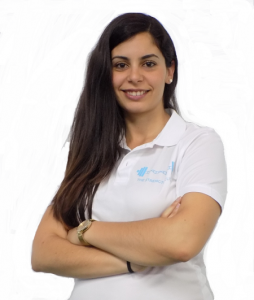 Andreia Castro
Nutritionist
Andreia was born in Lisbon, where she has always lived. She has been involved in sports throughout her whole life, although never at a competition level. During childhood she was involved in gymnastics, tennis and swimming. But it was during adolescence that Andreia found out her true passion exercise wise when she started to engage in strength and weight training, which continues to this day.
Andreia's academic path began in a field distant from Nutrition. She was first enrolled in an Interior Architecture degree at the University of Architecture of Lisbon. She never finished her studies in that area because her passion for nutrition spoke louder, which impelled her to make a rather radical change in her life and start a bachelor degree in Nutrition Sciences at the Atlântica University. During her undergraduate degree, a particular interest in sports nutrition arose, which led her to follow a master's degree in Exercise and Nutrition Science at the University of Chester in the United Kingdom.
After completion of her Master's degree, she returned to Portugal and began working with the Portuguese food supplement brand, Gold Nutrition, where she began to put into practice all the knowledge acquired in the field of sports nutrition. Around this time she also started the Advanced Course in Clinical Nutrition by NutriScience, and is currently attending the Certification in Functional and Personalized Nutrition, by the same organization. The fact that, along with nutrition, Andreia has a special taste for healthy and alternative cuisine, impelled her to take a professional course in cooking and pastry.
Andreia is truly passionate about her profession, and proud to be able to contribute to improve the quality of life of those who seek her. For this reason, she keeps herself constantly updated and always seeking to broaden her knowledge.