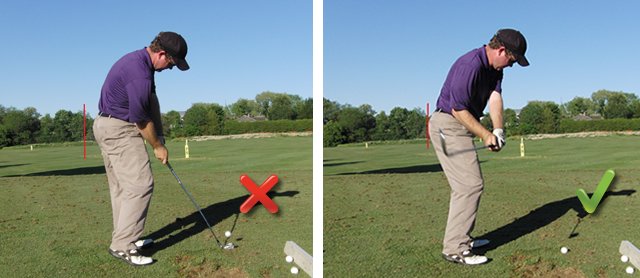 Following up on the topic addressed in the last article, let's talk today about a common swing characteristic that affects a lot of golfers and that can compromise their swing efficiency and their performance on the golf course: Early Extension.
What is Early Extension?
Early extension can be understood as an integral part of loss of posture, this happens when the player's hip and spine begin to extend too early in the downswing, i.e. the hips and pelvis move towards the ball in the downswing. In practical terms, if your body is not prepared to perform an efficient golf swing while maintaining good posture throughout the movement, you will end up lifting the upper body (spine) and miss the necessary hip rotation at impact. Your hips play a key role in injury prevention and performance improvement. If you have poor hip mobility, sooner or later your lower back will complain (and you can be sure that this situation will not be very pleasant).
According to studies conducted by the Titleist Performance Institute, 64.3% of amateur golfers early extend
Players who early extend usually refer that they feel trapped during the downswing as if they had to shrug their arms to hit the ball. And it's normal for that to be so because when you extend your hips too early on the downswing, the space that was supposed to be occupied by your arms and hands was occupied by the lower body. Therefore, the end result will be a blockage of the movement, since your arms and hands can't get out of the way and will still be needed to hit the ball.
How can I diagnose?
An easy and simple way to check if you do early extension is with your Smart Phone (you probably already have applications that allow you to draw lines and analyze your swing). All you need to do is to ask a friend to film you in the direction of the swing line and capture its full motion from the starting position (setup). After having your swing recorded, compare the position of your pelvis in the initial position with the position of the pelvis in the position of impact, if you notice that it moved towards the direction of the ball is because you extended your hip too early. If this is not possible, you can always ask your golf teacher to help you, I am sure he will be happy to do that.
What are the physical limitations?
"If you're not assessing, you're just guessing" – Greg Rose
The physical limitations can be many and to determine the causes that are affecting you, it would be important to make a functional assessment with a professional who understands how your body should move and its relation to the golf swing. According to what I have observed in my practice, I would like to highlight the following:
Limitations on performing a full squat with the arms extended overhead;
Limitations in hip mobility (especially in internal rotation of the leading hip and in anterior or posterior pelvic tilt);
Limitations in the ability to separate / disassociate the thorax from hips (X factor);
Limitations in the ability to stabilize the pelvis because the glutes and core muscles are inhibited.
What can I do to improve?
Although the causes may vary from person to person, I'm pretty sure that if you do the following exercises, you will improve and increase your body's functionality to play golf for a longer time. You only need 10 minutes a day.
Myofascial Release with Roller Stick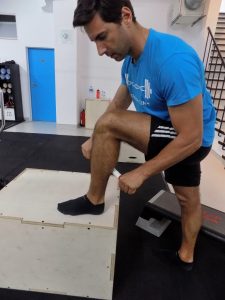 Using a roller stick, look for the trigger points of your calf and massage the inner, central and outer sides of the muscle for 30 seconds in each area. The points that hurt you most are those that need more care. Yes, this exercise might be a little uncomfortable but it's worth it.
Glute Bridge with Leg Extension

Lying in the supine position, push your heels against the floor, tighten your glutes, and raise your hips to form a glute bridge, with your arms up. Once in this position, extend one leg and form a straight line between the shoulder, hip and heel. Hold this position for 20-30 seconds, always keeping your hips high. Change legs and repeat 5 times on each side.
Squat with Overhead Arm Reach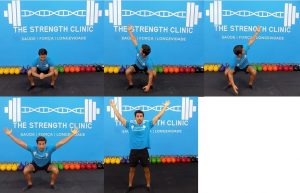 In the squat position (with your heels on the floor and your knees out), raise one arm up, lift the other arm (always looking at your hand) and then raise both arms at the same time and return to the standing position. If you can not squat without raising your heels, you can use a rolled up towel or a board to keep your heels high. Do 2-3 sets and repeat 8-10 times.
Assisted Squat wiht Medicine Ball

In the standing position, with your feet shoulder-width apart and slightly rotated out, hold a medicine ball (or a bucket full of balls) in front of your body, and begin to slowly lower your body into the squat position by keeping your back straight and without lifting your heels off the floor. Do 2-3 sets and repeat 10-12 times.
I believe that these exercises can be helpful to you, but remember: The swing you can do is directly related to what your body is prepared to do.
See you soon!
Pedro Correia