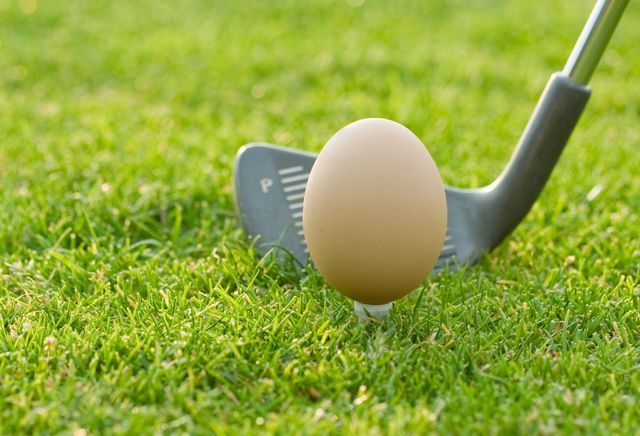 All golfers have one thing in common: they will invest a lot of time and money to improve their game! They will hire the best coaches to perfect your golf swing. They will buy the best equipment available to get more accuracy and to gain distance. Those who have already realized the importance of fitness in this sport will hire the best professionals to help them gain mobility, become stronger and more resilient. Some will turn to sports psychologists to learn how to maintain a good attitude in the field, focus and concentration. They do all this in order to make more birdies. But aren't they forgetting something?
In fact, there is something that most golfers forget to change: their low-quality diet. Most golfers have no idea how diet can influence performance. For starters, they forget that eating poorly will compromise increased muscle strength and will lead to body fat accumulation. And if you still think that having weak muscles and excess body fat is the way to go to become a top-level golfer, it's not worth reading any further. This article is not for you.
In addition to the deleterious effects on body composition and muscle strength it must be borne in mind that eating poorly will limit focus and concentration, will lead to mood swings and may lead to poor immune function, increased chronic inflammation and general health problems. Try playing several rounds for days at a time when you are in a bad mood, in bad shape, and unable to concentrate. Poor nutrition will have a direct impact on training and competition. Lack of focus, concentration and early tiredness, especially during training and / or competitions, are signs that your nutrition is compromising your performance.
No doubt, you can be very skillful with your golf clubs, do some Ballesteros shots and do some exceptional rounds from time to time, but if you're looking for consistency in results and longevity as a golfer, there's no better substitute than the foods you eat every day. None!
So why do golfers never change?
There are several reasons why golfers never change and prefer to continue eating the club sandwiches, the chips and the pasta served in every clubhouse menu in the world. Let's go through some of those reasons.
1) The myth of the pre-competition meal.
Many golfers (especially beginners) make the mistake of thinking that it is only the food eaten before and during practice and competition that can affect their game. While this may make sense at a first glance, this is not physiologically what happens – most of the energy you are using today depends on the nutrients you have eaten (and absorbed) in the last 72 hours!
Please note, I am not saying that what you eat before and after practice / competition makes no difference. Of course it does! However, these meals are not necessarily the most important. Each meal will have a certain impact on your body regardless of the time frame in which it is consumed. It is the cumulative effect of these meals that will lead to an improvement (or decrease) in performance.
In other words, in golf, there is no pre-competition or intra-competition magic meal. If you've waited until the day before a big competition to start eating well, it's probably too late. I am sorry to inform you but there are no miraculous solutions, you really need to eat consistently well!
2) Golfers cannot see the link between nutrition and performance.
Most golfers do not realize the connection between nutrition and performance. And that's because they are not aware of how diet will influence their muscle function and brain biochemistry.
In the case of golf, as this is a sport that does not involve too much energy expenditure and does not require athletes to maintain a certain body weight (as with wrestlers, gymnasts, swimmers, endurance athletes or athletes from other sports), it is thought that the need to eat well is not that important. In fact, this relationship might not seem so obvious.
But that's not the point, golfers don't need to be muscular and low body fat individuals as you see in fitness magazines. What they need is to develop their athletic potential so that this is not a factor that could hinder their performance on the golf course. Golf is not a very energy-intensive sport so a golfer's nutritional needs cannot match those of a fighter or an endurance athlete. But different does not mean less important – as we saw above it is not just body composition that will be influenced by diet.
Although the link between golf and nutrition is a little less visible than in other sports, it exists. Maintaining and / or increasing muscle mass, mobility, reducing inflammation of muscles and joints, maintaining focus and concentration, preventing injuries, can all be influenced by nutrition. But only those who put the best nutritional strategies into practice will have competitive advantages (obviously this does not include Big Macs!).
3) The difficulty in changing eating habits.
Probably the most difficult hurdle for most people is overcoming the eating habits they have. Our eating patterns have been around for a long time and few people are willing to change them if there is not a strong reason (as in the case of a serious health problem). And why does this happen? Because we have not been taught to think that food is information for our cells. We have not been taught to think that food will influence the expression of our genes. We have not been taught to think that it is the everyday foods we consume from our environment that can trigger health improvement or health deterioration.
Of course there are many other reasons why golfers are reluctant to change their eating habits and why you don't change yours. And that's why in the next article I will continue to address this topic so you can understand why you need to change your eating habits quickly to live healthier and to take your game to the next level.
Good strokes!
Pedro Correia