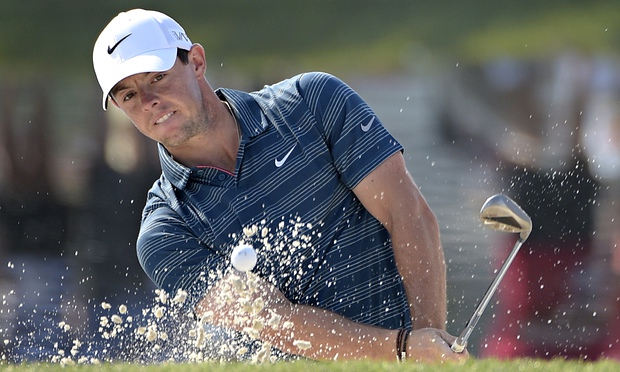 "We don't believe there is one way to swing a club; we believe there is an infinite number of ways to swing a club. But we do believe there is one efficient way for all golfers to swing a club and it is based on what they can physically do."
– Titleist Performance Institute
If you're reading this, you're probably interested in improving your physical condition to make more birdies, hit longer drives, and increase your longevity as a golfer. Or, perhaps, your goal is to become the best player in your club or win the next Match Play Championship. No matter what your motivation is, the fact is that if your goal is to improve your game, this will require you to prepare yourself a bit better than most golfers I know. And better does not necessarily mean training longer hours!
If you´re still one of those players who spends hours and hours hitting buckets of balls on the driving range hopping that this will help you improve your golf game, you need to change your strategy. Hitting buckets of balls in the driving range and making chips and putts is not enough. If you truly want to improve your performance in this sport, your practice needs to include general athletic development exercises and specific physical training for golf, in a progressive and periodized manner.
This means that what you normally see in the gym has nothing to do with what you need to do to hit farther, straighter and to go through the 18 holes without getting so tired.
First: Is your swing efficient?
The only way to determine whether your golf swing is efficient or not is through a 3D Biomechanical Analysis. What we can see in the traditional video imaging used by most golf professionals / teachers is just the swing style. There are many golfers who do not have a particularly attractive swing (e.g. Raymond Floyd, Jim Furyk or John Daly) but the reason why these players were or are successful is because their swing is efficient. Having an efficient swing for a golfer means transferring energy (without leaks) through the feet, knees, hips, spine, shoulders, arms, wrists down to the club head and ultimately to the ball. With the data obtained through the 3D system, we can check the kinematic sequence of each player, that is, we can measure the speed of rotation of each body segment involved in the execution of the golf swing and determine if each segment is accelerating and decelerating correctly.
When we look at Jim Furyk and Ernie Els swing through video analysis (and through the naked eye), we can see that both swings are quite different from each other, however, when we look at the kinematic sequence of each player, we find that it's difficult to see a significant difference between the two swings. This means that although Ernie Els and Jim Furyk have completely different swing styles, they both share the same kinematic sequence.
All great players start by generating speed from the hips and transferring that energy through the torso, arms and club. This is the efficient sequence in the downswing.
The golf swing is a complex multi-dimensional movement that involves a highly coordinated action of the entire kinetic chain (feet, knees, hips, spine, shoulders, arms and wrists) and takes less than two seconds. The golf swing is therefore a ballistic movement which, in order to perform efficiently (i.e. with a correct kinematic sequence), it's necessary that the various body segments are properly prepared to deal with the inherent shear and rotation forces in this movement. Hence the importance of what follows.
Second: The Physical Assessment in Golf
Before we get to the physical training itself, it's important to know what your physical limitations and asymmetries in terms of movement are (one of the main causes of injury). Because of this, it's essential that you perform a functional assessment for golf, preferably with a qualified professional that knows what he's doing. In the same way that you go to the doctor for exams to find out how your health markers are, you should also do an initial assessment with a golf fitness specialist to find out how your body behaves during a golf swing and which are the main limitations / compensations.
The physical evaluation in golf consists of performing several tests in order to measure the functionality of the body movement patterns necessary for golf, that is, the measurement of various indicators of its stability, mobility, balance and various performance parameters such as strength, power and cardiovascular capacity.
This type of assessment is the starting point for playing better and for preventing injuries. If you still think that your body is fine and that you don't need any intervention at this level, you're more likely to be wrong. Our body was not designed to lead the way we live today, so you can be pretty sure there are things in your body that need some work. If you still do not believe me, think of golfers you know who have never complained of back pain or pain in another part of the body (wrists, shoulders, elbow).
Your body is the determining piece of equipment in your game. The quality of the clubs, balls, gloves, shoes and the latest drive or putt on the market, are certainly not the most important aspects. I still see many golfers too preoccupied with the new gadgets and the style of clothing, when in fact these are not the most important things to get more birdies. What will, in fact, bring you better results is improving your body's functional skills to hit the ball more efficiently and safely.
Final Remarks
Many players fail to perform an efficient golf swing not only because the movement itself is complex but also because their bodies are not properly prepared to deal with the forces generated during the movement.
Keep this in mind the next time you hit balls or have a lesson with your golf teacher, maybe that's why you can't do what your teacher asks you to do. There is no point constantly insisting on improving technique if there is no synergistic effort in improving physical skills. The swing you can perform is directly related to what your body is prepared to do – think of the golf club as an extension of your body.
In the next articles I will share the most common characteristics in this relationship between the body and the golf swing and suggest some exercises so that you can improve your performance on the golf course.
Stay tuned!
Pedro Correia